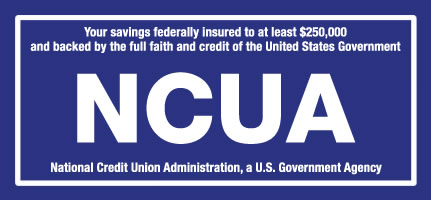 Know your funds are safe and secure, backed by the complete confidence of the National Credit Union Administration (NCUA), an independent United States government agency dedicated to protecting credit union members.
All of your deposits with us are federally insured by the NCUA up to $250,000. Download the NCUA brochure explaining federal deposit insurance, learn more at www.NCUA.gov or use the free insurance calculators at mycreditunion.gov* to estimate your coverage.
As always, please reach out to a Service 1 Federal Credit Union representative with any questions.
*The Share Insurance Estimator at mycreditunion.gov is designed to give an accurate share insurance calculation, assuming it is properly used and the account information is correctly entered. However, the results and conclusions generated by the Share Insurance Estimator are strictly advisory. This estimate is based on the share insurance regulations in effect as of May 2013. All actual claims for share insurance shall be governed exclusively by information set forth in the federally insured credit union's records and applicable federal statutes and regulations then in effect. The insurance calculator is a third-party service provided by mycreditunion.gov and is not maintained by Service 1 Federal Credit Union, therefore Service 1 Federal Credit Union assumes no responsitibity for the accuracy of the estimator results. Call our Contact Center at (800) 879.9697 for more information about NCUA insurance.