Psst…hey kids, it's me, Astro! I'll help you earn an "A" in Saving 101 — while having a ton of fun. Join the club today!
Key Features
Competitive Dividends

Fun, Kid-Friendly Perks

No Monthly Service Charge

Electronic Banking
Details
Available to young savers 12 and younger
Competitive dividends on entire balance — with an exclusive rate of 0.20% APY*
No monthly service charge
No minimum balance requirements
Kids will enjoy special perks that make saving fun, including:

Invitations to cool, exclusive events
A quarterly newsletter from Astro
An official membership card
Access to online games (check out the links below!)
And more!

Special youth certificates also available
Free electronic banking
Shared branching available
$5 minimum deposit to open
Download our brochure to learn more!
Astro Kids Events
Youth Month
You could fly away with dino-mite prizes like $100 savings deposits, gift cards, and more during this year's Youth Month celebration: April 1-30, 2021! View the flyer for complete details.
2020 Record Savings
Youth members made over 1,500 deposits during National Youth Savings Month totalling over $500,000—doing a GREAT job believing in money magic and SAVING!
Each week during youth month, April 1 through 30, we drew a random winner for prize packages; there were 8 winners in all! Plus, GRAND PRIZE winners Grace (Muskegon, MI) and Tywuan (Mobile, AL), each received an Amazon prize package with a $50 gift card and sweet Service 1 FCU swag!
Remember, you can believe in money magic all year long and save in your Service 1 FCU youth account. Check back for pictures and follow us on Facebook and Twitter for up-to-the-minute news!
Santa's Sleigh Stopped at Service 1 FCU
Astro Kids visited with Santa in Neosho on Saturday, December 2 at the Lampo Community Center, and in Muskegon on Saturday, December 16 at the Lakes Mall branch! They took photos with the Jolly Old Elf himself, enjoyed refreshments, and took home a special gift! Santa generously donated his $200 appearance fee to The Restoration Life Center of Neosho. Check out pictures from the events:
Pumpkin Decorating with Astro Kids!
Pumpkin Decorating was so much fun with our Astro kids members on Saturday, October 14 at our Lakes Mall branch in Muskegon. Each Astro member got to make and take their very own pumpkin, enjoy refreshments and enter to win a Toys 'R' Us prize package!

Santa's Sleigh Stopped at Service 1 Federal Credit Union!
Jolly Old Saint Nick visited with our Neosho members on Saturday, December 3rd. We had a great turnout at the Lampo Community Center and lots of fun! Thanks to everyone who came out to celebrate with us!
Santa also stopped by our Lakes Mall Branch on Saturday, December 17th to visit with our Astro Kids' Club members. We had a great turn out with over 115 Astro Kids sharing their Christmas wishes with Jolly Old Saint Nick!
Newsletters
A few times a year, Astro Kids receive their very own newsletter in the mail. It's filled with special kid-friendly event information, money saving tips, games and crafts, and more! Did you miss an issue of The Argon Chronicle, the Kids Newsletter? No problem! We have the recent back-issues right here:
Online Games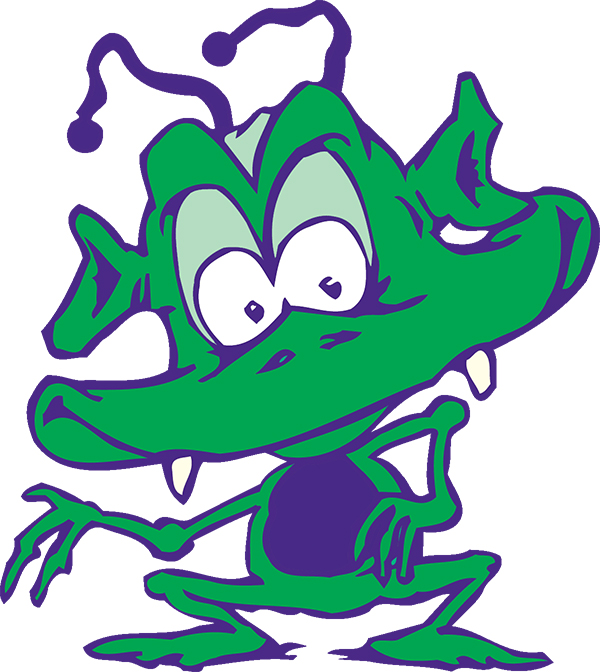 Hi kids, it's Astro again! I've been searching the galaxy for the best money games to share. Give your finances a kick with financial soccer and football, let Peter Pig help you count your change, and more. What are you waiting for? Start your fun below!
Boring Grownup Stuff: The money management games above in no way indicate the opinion or financial recommendation of Service 1 Federal Credit Union. They are the sole property of Practical Money Skills for Life.